Jeanne de Belleville, Pirate or Politician?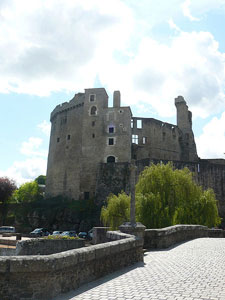 Jeanne De Belleville [ aka Jeanne De Clisson ] presents a wonderful example of how a mildly impressive story can be turned into an epic legend. Robin Hood and King Arthur are similar if more complicated examples.
 
The Hundred Years War
When the Duke of Brittany died with no male heir in 1341, both King Edward III of England and Phillip VI of France saw an opportunity.  The two kings were already at odds over Edward's claim to French territories and indeed, the crown itself. The duchy lay between their kingdoms and would provide either a useful foothold or buffer to invasion. Their support of the competing claimants, Jeanne de Penthièvre and Jean de Monfort, inflamed the conflict that became known as the Hundred Years War.
One of the early victims was the wealthy and influential Lord Olivier de Clisson. A supporter of de Monfort, who was favoured by Edward, he was captured by Phillip while attending a tournament in 1343, and executed as a traitor. This outraged many of his peers, who believed the King acted both illegally and dishonourably. Above all, it outraged his wife, the equally wealthy and influential Jeanne de Clisson. As possessor in her own right of the lands of Belleville, she was also frequently known as Jeanne de Belleville.
The Glorious Legend
Legend has it that Jeanne sailed with her two young sons from Clisson to the town of Nantes, to show them the head of their father displayed at the town gates. Then, selling those lands that remained to her, she raised a small force of loyal men with whom she attacked pro-French forces in Brittany, notoriously massacring the garrison of Chateau Thébaut. When her situation became too dangerous on land, she switched to the sea but her ship foundered in a storm, leaving her and her sons adrift in a small boat. Before they reached land, the younger child died. She and her remaining son sought shelter in England.
With Edward's assistance, she outfitted three more ships. Painting them black and dyeing the sails red, she hunted French ships up and down the English Channel. Whenever she captured a French nobleman, she beheaded him with her own hands, but always left one or two of the crew alive to report her actions to Phillip. She became known as the Lioness of Brittany; reviled as a monster by some, praised as a heroine by others. However, after thirteen years she married an English noble, quitting both the sea and her quest for revenge.
Please note there are several variations on this story though the important elements remain constant.
The Annoying Facts
This stirring tale has elements in common with the novel Jeanne de Belleville, published in France in1868 by one Émile Pehant. A correspondent of Victor Hugo, Pehant was writing at the height of the French Romantic Movement.
A C15th manuscript known as the Chronographia Regnum Francorum confirms some of the details. Furthermore, a French judgement of late 1343 condemns Jeanne as a traitor in her own right and orders the confiscation of her lands. In 1345, records from the English court indicate Edward granted her an income from lands he now controlled in Brittany and she is mentioned in a truce drawn up between France and England in 1347 as a valuable English ally. These sources suggest that the period of her actual martial activity was restricted to the five months between the execution of Clisson and her flight to England.
Jeanne arrived in England not only with a surviving son, Olivier, but a daughter, Jeanne. Her son was raised in the English court and by 1349 she had indeed married Edward's Commander in the Marches, Walter Bently, but she had not abandoned her Breton interests. The King's wedding gift was those Belleville lands still in French hands. She and her new husband were quickly back in France and by 1352, Bently held responsibility for all English interests in Brittany.
The date and circumstances of Jeanne's death are uncertain, but in 1359, Olivier did homage to Edward for the lands and income he had granted her - and received them.
It should be noted that actual verifiable references of this matter are somewhat scare. As a result Jeanne's legendary exploits may have been more extensive than the known facts would indicate. However they do seem to have been considerably exaggerated. Whatever the truth it is clear Jeanne was no defenceless "Damsel in Distress".  
The Aftermath
The young Olivier de Clisson eventually reclaimed his father's title and lands, but only after the tide of the war had turned and his loyalties with them. He achieved his greatest success at the French court, becoming Constable of France under Charles VI. The young Jeanne married one of Edward's men and her son was eventually recognised as the lord of Belleville. For such continuity to persist in the midst of such chaos suggests Jeanne de Belleville had a driving will, but was perhaps above all else a successful lobbyist, possessed of political acumen surpassing any mere desire for revenge.
The Other Women
Militant women were a feature of the Hundred Years War: from Jeanne de Penthièvre and the Duchess de Monfort to the legendary Jeanne de Arc. And while Edward III was off fighting in France, his queen, Phillipa of Hainault successfully defended England against a Scottish invasion. Although she does not feature in the principal chronicles of the times, such as those of Jean Froissart, Jeanne de Belleville nonetheless left her mark; not the least at Chateau Clisson, where her ghost is now said to walk.
References:
A History of Piracy, Robert de la Croix, trans. Michael Ross, Manor Books, New York, 1978
Olivier de Clisson and political society in France under Charles V and Charles VI,  John Bell Henneman, University of Pennsylvania Press, 1996
Women Pirates and the Politics of the Jolly Roger, ed. Ulrike Klausmann, Gabriel Kuhn & Marion Meinzerin, trans. Nicolas Levis, Black Rose Books, 1997
The Encyclopaedia of Amazons : women warriors from antiquity to the modern era, Jessica Amanda Salmonson, New York : Paragon House, 1991.
Contemporary Chronicles of the Hundred Years War from the works of Jean le Bel, Jean Froissart and Euguerrad de Mastrelet, trans. & ed. Peter Edward Thompson, London, Folio Society, 1966.
back to Treasure Trove